Blacklion BL4S Cilerro Tyres Available in Consett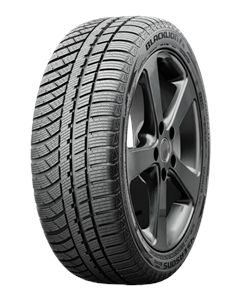 ---

BL4S Cilerro
More information
The Blacklion Cilerro BL4S is a true all-weather tire designed for year-round use in North America. Engineered to meet the challenges of delivering performance throughout the worst of the unpredictable 12-months of the year, the BL4S combines the comfort and silence of all-season tyres with the capabilities of a winter tyre. This tyre meets the service requirements for 3 Peak Mountain Snowflake certification applied to winter tyres, giving you the confidence to tackle all weather conditions.
Reinforced and strengthened casing ensures even and consistent traction by increasing rigidity to minimize tread squirm in high-speed and cornering scenarios.
The asymmetrical all-weather tread pattern is designed to deliver excellent traction by effectively evacuating water, slush and snow to ensure that more of the tire contacts the road in every season.
Three deep circumferential channels greatly improve handling and stability, while also serving to evacuate heavy snow and slush in winter conditions.
---