Yokohama Geolandar M/T G003 Tyres Available in Consett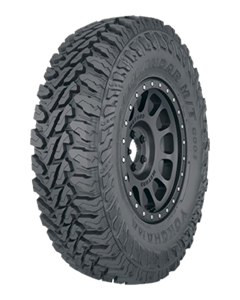 ---

Geolandar M/T G003
More information
Benefits
Long Tread Life
High-Density Compound
New triple polymer blend provides exceptional wear performance.
Wide Flat Profile
A wide flat profile distributes stresses more evenly across the entire tread area resulting in longer wear.
Off-Road Durability
Proprietary Geo-ShieldTM Technology
Aggressive Sidewall Armor
Creates a bold, new look while delivering off-road traction and protection from damage.
Geo-Shield TechnologyTM
Multiple sidewall plies, steel belts, a full nylon cap and high turn-up carcass assure merciless traction and reliable protection.
On/Off-Road Traction
Stops 51' Shorter on Wet Roads
Optimized Block-To-Void Ratio And Sipes
Ideal block-to-void ratio provides outstanding off-road grip and shorter stopping distances on wet roads.
Mud And Stone Ejectors
Mud and stone ejectors protect against stone drilling and keep the grooves clear.
Quieter Ride
2.3 DB Quieter On The Road
Advanced Variable Pitch Tread
The advanced variable pitch tread design was engineered to provide a quieter highway ride.
---